The 2022 Toyota Tacoma vs. The 2022 Toyota Tundra
The pickup truck might be a uniquely American idea, but that doesn't mean that American car companies have locked that idea down. You don't have to look any further than the highest resale-valued pickups on the market to see that – the Toyota Tundra is the top-ranked overall, and its little brother Tacoma leads the mid-size pick-up category! These are reliable, affordable trucks that have made an impact on the market, and are highly valued by pickup enthusiasts.
So which one is a better fit for you? Is it the Tundra – a newly-redesigned, powerful, full-size truck with massive towing and hauling capabilities? Or is it the Tacoma, offering affordability and economy in a package that is more fitting for cramped urban and suburban terrain? Let's take a look at these two side-by-side to see.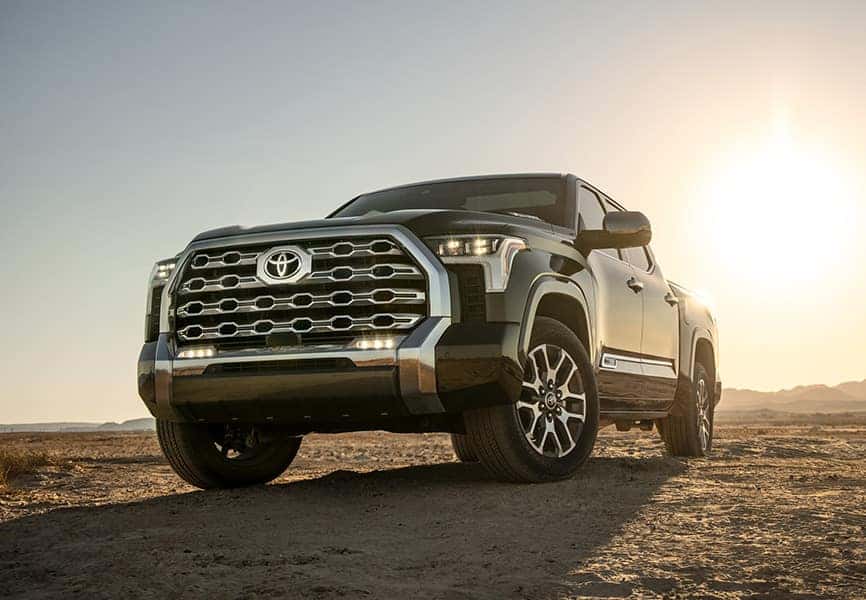 The 2022 Toyota Tundra
The 2022 Toyota Tacoma
Performance
When it comes to pure power, it's no surprise the 2022 Toyota Tundra has plenty to offer. Even though they've done away with the big V8, they haven't cut off the power! Coupled with a smart 10-speed automatic transmission, choose from either the 389-horsepower twin-turbo 3.5-liter V6 engine offering 479 lb-ft of torque, or the mild hybrid i-FORCE MAX that balances electric motors and the 3.5-liter engine to generate 437 horsepower and 583 lb-ft of torque. This allows the Tundra to tow up to 12,000 pounds!
Unsurprisingly, the smaller 2022 Toyota Tacoma features smaller, more economical engines. The base 2.7-liter four-cylinder puts out 159 horsepower and 180 lb-ft of torque, not particularly potent but meaning it can hit a commuter-friendly 21 MPG combined. For Tacoma buyers looking to tow, the 3.5-liter V6 engine that produces 270 horsepower and 265 lb-ft of torque is the better option – it can tow up to 6800 pounds depending on drivetrain and equipment. The V6 Tacoma can also be equipped with a manual transmission – the only manual pickup left on the market!
Both trucks are available in front- and four-wheel drive versions, and can be equipped with a variety of TRD Off-Road goodies. This includes skid plates, off-road-tuned Bilstein shocks, suspension lifting, Multi-Terrain Select (MTS) and Crawl Control (CRAWL) for fine tuning of the truck's performance, and much more!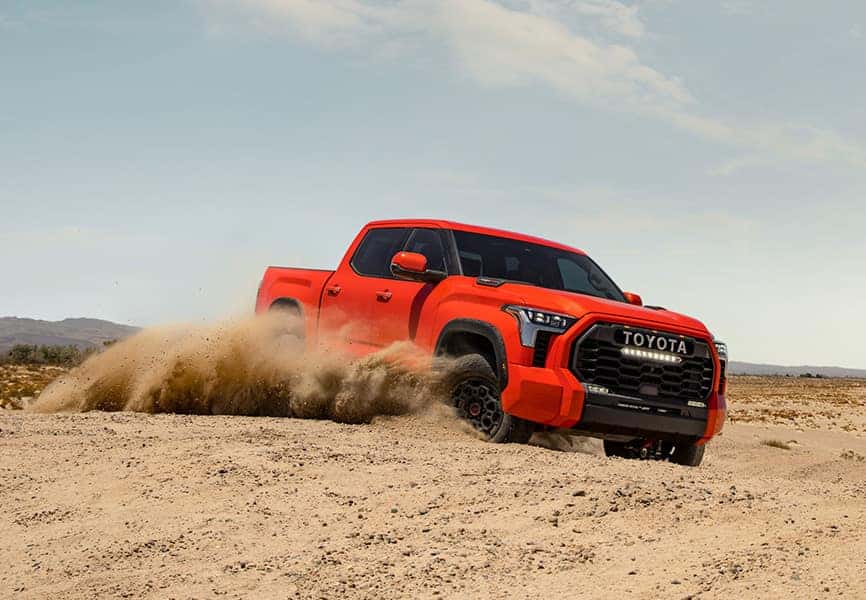 The 2022 Toyota Tundra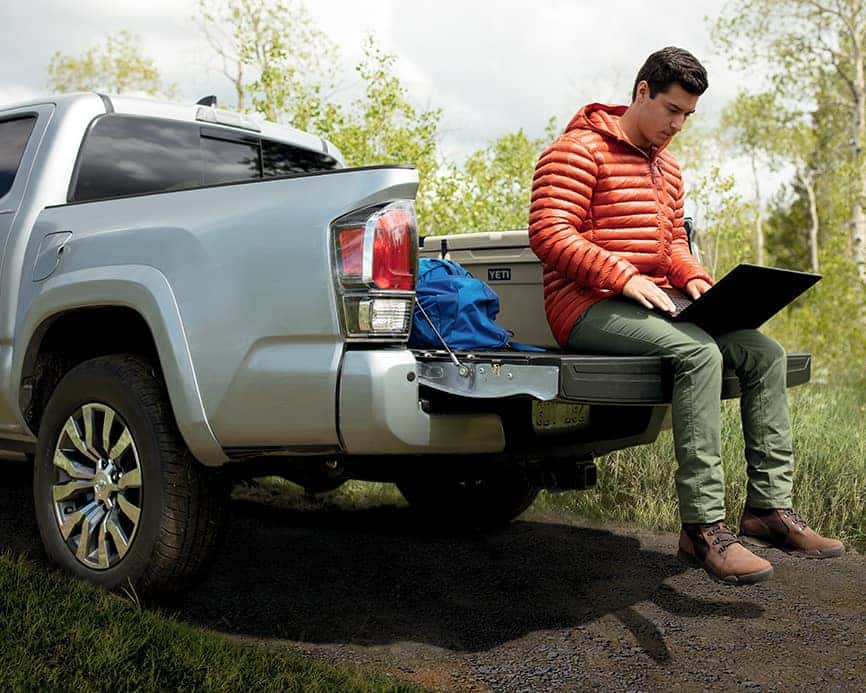 The 2022 Toyota Tacoma
Design & Comfort
Both the 2022 Toyota Tacoma and 2022 Toyota Tundra offer the choice of two cabs. The Double Cab is available on both, and offers roughly the same back seat space on both trucks – enough for most adults to be comfortable. The smaller Access Cab in the Tacoma is fine for kids and small adults, but can get cramped on long trips for larger folk. Meanwhile, the Tundra offers the spacious CrewMax Cab, one of the largest cabins in the class, with over 41 inches of legroom in the rear seats.
When it comes to interior comfort, both trucks have plenty to offer. Both start with fabric upholstery that offers easy cleaning and durability, and both offer upgraded leather-trimmed seats. TRD-badged models get their own unique upholstery and interior badging. While the Tacoma leans into the off-roading territory with multiple TRD models, the Tacoma offers more in terms of luxury – check out the limited-edition western-themed 1794 trim with unique walnut wood-grain interior trim and special 1794 Edition floor mats, along with 1794 badging. Dual-zone automatic climate control is available in both models, as are heated and ventilated front seats.
Of course, there's a difference in bed size between the two vehicles as well, and that can really impact your choice. With the 2022 Toyota Tacoma, you've got the choice of a five-foot or a six-foot bed. The Tundra gets a 5.5-foot bed with the crew cab, or the choice of a 6.5- or 8.1-foot bed with the Double Cab. This makes the Tundra a great choice for a work truck, but it comes at the cost of a vehicle that isn't as convenient for getting around like the Tacoma is.
Technology
Both the 2022 Toyota Tundra and the 2022 Toyota Tacoma come with Apple CarPlay, Android Auto, and Amazon Alexa integration through their standard console touch screens. While the Tacoma starts out with a seven-inch model and can be upgraded to an eight-inch screen, the Tundra receives major screen upgrades for 2022. The base eight-inch screen is adequate, but the available 14-inch touchscreen makes for easy system use. Both offer available Qi compatible wireless charging, and both offer a number of media and charging USB ports. The audiophile will love the Tundra over the Tacoma though – while the Tacoma is equipped with six-speakers, the Tundra can double that when you opt for the premium JBL® audio system with 12 speakers including subwoofer and amplifier.

The 2022 Toyota Tundra
Safety
Both the 2022 Toyota Tundra and 2022 Toyota Tacoma come with a version of the Toyota Safety Sense suite of driver assist systems. These systems include forward collision warning, lane departure warning, pedestrian detection, and adaptive cruise control – all are standard on both. A rearview camera is also standard on both, while a Panoramic View Monitor is optional on both. Both trucks also have blind spot monitoring, rear cross traffic alert, and rear parking sensors as additional advanced features.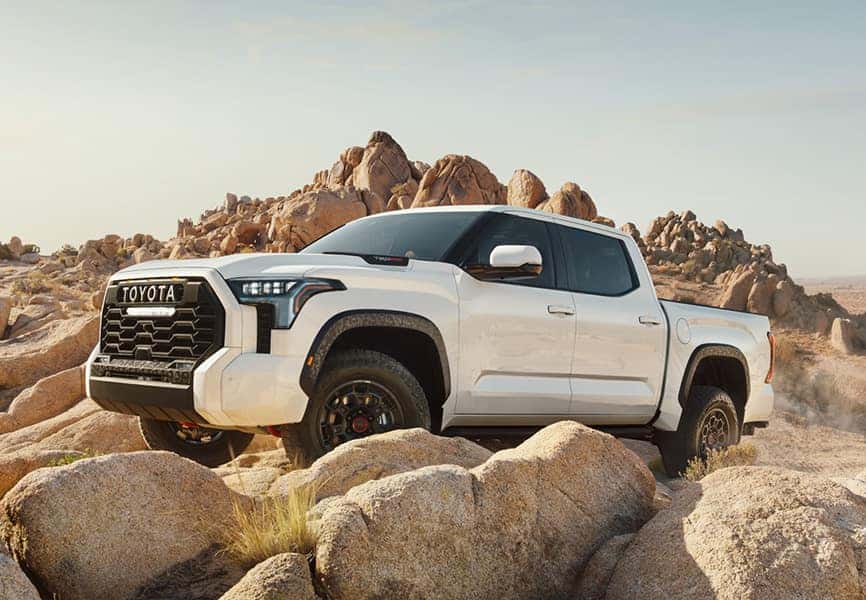 The 2022 Toyota Tundra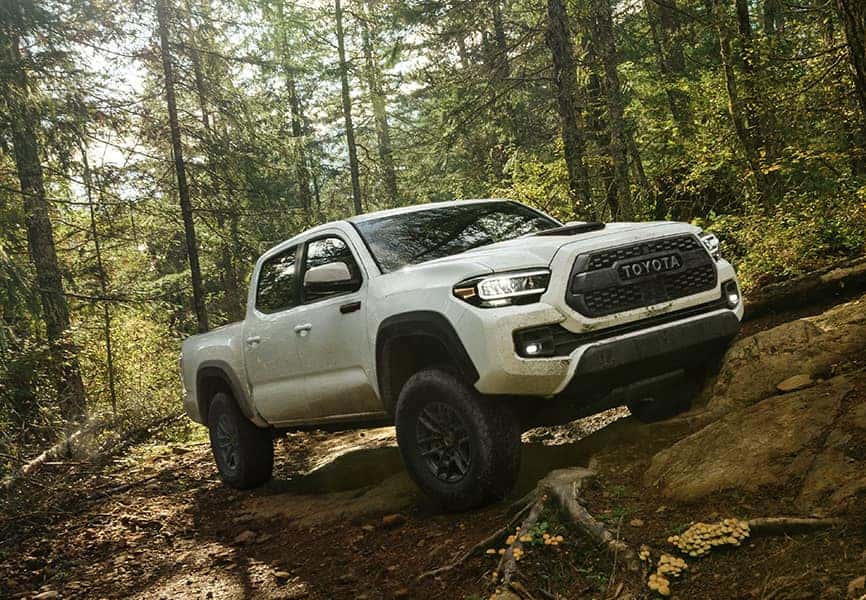 The 2022 Toyota Tacoma
---
The Winner – You Decide!
You can't really go wrong choosing between the 2022 Tundra and the 2022 Tacoma. It really just boils down to how you're planning on using it! If you're toting around large loads or a team of adults, the full-size Tundra is a great choice – but if you want efficiency in a compact frame that is great for tight urban parking spots or are hauling kids more often than adults, the Tacoma is the better option. Either way, you get a reliable truck that will hold its value for years to come! You can test drive both of these powerful trucks and decide the best fit for yourself today at Lancaster Toyota!
New Inventory
Used Inventory
Schedule Service
Contact Us