The 2021 Toyota Sienna versus the 2021 Honda Odyssey
The days of the minivan being the soulless people-mover that drivers dread graduating into are long gone. As SUVs have continued to grow in popularity, minivans have had 2 choices: evolve, or get left behind. Many have opted for the latter, and the streets of East Petersburg and York are seeing fewer minivans every day.
However, there are still some minivans duking it out to help carry soccer teams, landscaping, and more across Lancaster County. And the ones that are left are stronger than ever before, so the fight for the top of the class is a tough one. For most drivers, it comes down to one of two vehicles – the Toyota Sienna or the Honda Odyssey. So, how do they stack up?

Performance & Efficiency: 2021 Toyota Sienna vs. 2021 Honda Odyssey
The Toyota Sienna has been completely revamped this year, so drivers can expect better fuel efficiency and a spritely performance in the now all-hybrid 2021 model. Replacing last year's gas powertrain is a standard 2.5L four-cylinder engine paired with two electric motors that get this 8-passenger van up to 36mpg combined! That will get you much farther than the 2021 Honda Odyssey's 22mpg combined, not to mention save money and resources.
Although we don't expect a minivan to cut across town like a sport coupe, it's nice to know that it still has plenty of power for hilly rides with a packed backseat and ease when overtaking other vehicles on the highway. There is no question the 2021 Sienna provides that with its 245-hp net hybrid system and smooth-shifting electronically controlled continuously variable transmission (ECVT) with sequential shift mode. Plus, with the snow squalls and rainstorms that can hammer these parts of Pennsylvania, all-wheel drive is a must with most drivers. Luckily, all-wheel drive is available on the Toyota Sienna, unlike the Honda Odyssey which doesn't offer that. SO, for capability all year-round, the 2021 Toyota Sienna is the way to go.
As for overall drive quality, the 2021 Sienna provides a smoother ride and more stable handling than the 2021 Odyssey thanks to its longer wheelbase, sport-tuned electronic power steering, and advanced suspension system. The Toyota Sienna also manages to provide a tighter turning circle for when you have to maneuver into tight spots, and the braking system is exceptionally reliable. All around, the 2021 Toyota Sienna provides a more spry, efficient package than the 2021 Honda Odyssey.

Safety: 2021 Toyota Sienna vs. 2021 Honda Odyssey
You're not getting a minivan to cruise around solo. You're expecting to have to ferry multiple passengers, cargo, and maybe even some pets around Lancaster and beyond. So, you're looking for safety from the start.
Both the 2021 Toyota Sienna and the 2021 Honda Odyssey offer extensive active safety packages and driver assistance technologies like adaptive cruise control systems, Lane Departure Alert with steering assist, pedestrian detection, road sign assist, and much more to prevent the event of an accident.
The major difference is that with the Toyota Sienna, you get numerous other safety packages and standard features that make it the most holistically safe minivan for East Petersburg drivers. Every Toyota Sienna also comes with the ToyotaCare no-cost maintenance plan, an advanced ten airbag system, a complimentary 1-year Safety Connect® subscription, and the intelligent Star Safety System™. Talk about covering all the bases.

Interior Space & Design: 2021 Toyota Sienna vs. 2021 Honda Odyssey
Spaciousness is key to a good minivan. Room for cargo, room for passengers, space to keep the kids separated…Lancaster drivers need it all. Thanks to a smartly-designed interior, the 2021 Toyota Sienna has plenty of space and flexibility inside so that everyone is comfortable. Even with all three rows in place, there is room for 33.5 cubic feet of cargo behind the third row. That's lots of coolers, sports equipment, luggage, or even the family pet in its crate. The 2021 Honda Odyssey comes up a little short, offering only 32.8 cubic feet of cargo behind the third row.
Of course, cargo doesn't generally complain or start crying when it gets bumped by a sibling. That's where having wider, more spacious seating is an advantage. In the Sienna, the back rows have two extra inches of hip room and thoughtful kid comforts like sun-shades, available four-zone automatic climate control, and up to 18 cupholders. The back row will also appreciate the 6 USB charging ports and 12V DC outlet so their tech toys can stay juiced up on any road trip.
There is so much offered in the all-new 2021 Toyota Sienna, making it the top choice for Pennsylvania families who want to save on gas and have the smoothest, most comfortable driving experience every time they get on the road. While the 2021 Honda Odyssey is another great choice, it falls short in comparison to the performance, safety, and design features that come standard on every 2021 Toyota Sienna, plus it isn't nearly as efficient!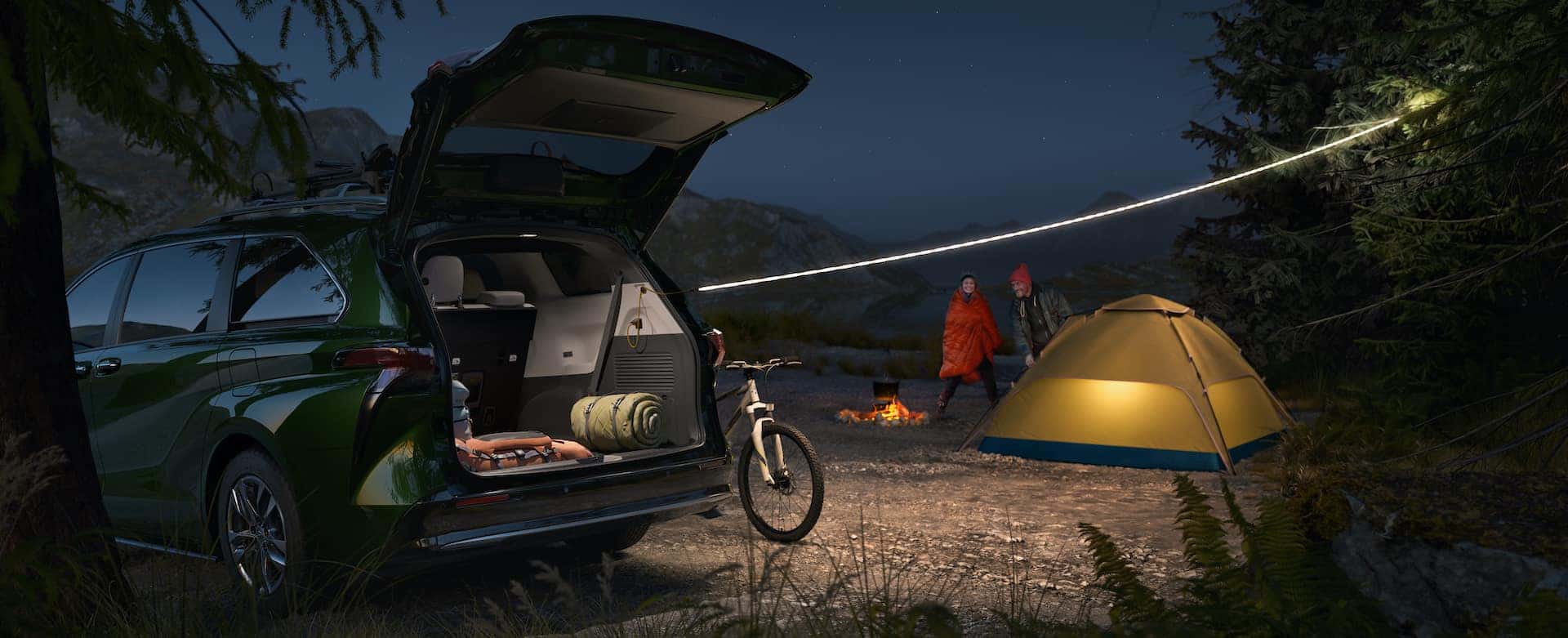 ---
Schedule a test drive with a 2021 Toyota Sienna today at Lancaster Toyota. We look forward to working with you!