The 2017 Toyota Yaris | Lancaster Toyota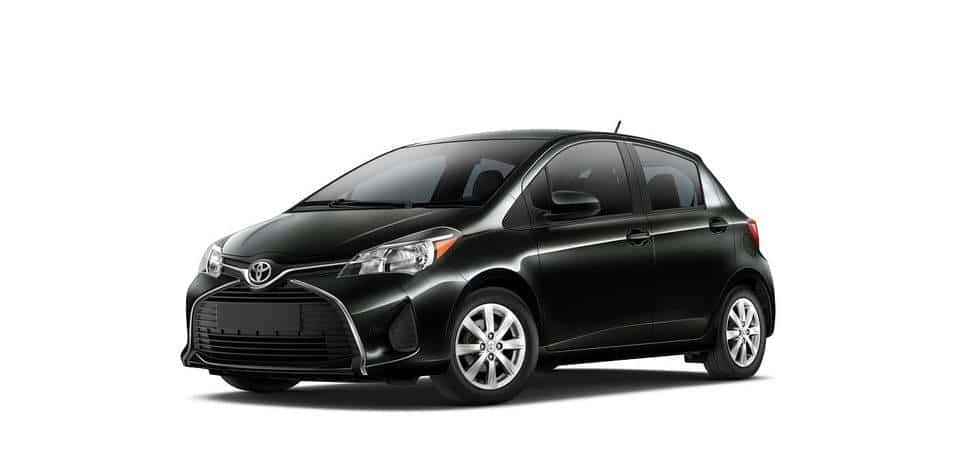 Exterior
The 2017 Toyota Yaris features a unique, euro-inspired exterior, featuring sleek lines, a compact shape, and the famous front grille that the Yaris shares with the rest of the Toyota lineup. The Yaris also comes in two different body styles, whether as a 3-door compact coupe or as a 5-door compact hatchback. Equipped with integrated fog lights, rear spoiler, and available LED daytime running lights (featuring an accent light bar), the Yaris is one of the most stunning vehicles on the road.
Versatile Space
Inside, the Yaris combines a number of features to offer storage solutions, including:
Standard 15.6 cubic feet of cargo space
Front passenger seat seatback pockets
Door pockets
Passenger-side footwell pocket
Center console storage compartment
Passenger-side glove compartment
60/40 split-folding rear seat
Front-door bottle holders
Two front and one rear cup holders
Cargo-area tonneau cover
Small Size, Smart Size
The Toyota Yaris is one of the best vehicles available for urban environments. First of all, this is due to the Yaris' maneuverability—a shorter car leads to a very small turning radius and the ability to leave other drivers three-point-turning in your dust. On top of that, the Yaris offers superior visibility with its large windows, giving you a perfect view as you back your car into spaces that other cars just can't fit into.
Contact Us