Model Features of the 2022 Toyota Highlander Hybrid
Are you in need of a vehicle upgrade, maybe a little extra space? Then you have come to the right place! Whether you are the designated driver for your kid's soccer team or an avid road-tripper with a lot of luggage, the 2022 Highlander Hybrid is everything you could hope to get with a midsize SUV. Our team at Lancaster Toyota is here to help you find the perfect new vehicle for you. Dominating the market for midsize SUVs with its roomy interior, performance efficiency, and special features, the 2022 Highlander Hybrid might just be exactly what you're looking for.

Space & Comfort
One of the biggest reasons people have favored gas models over their hybrid counterparts in the past is the difference in the amount of interior space. However, with the new 2022 Highlander Hybrid, space is not an issue. This Hybrid SUV does not have to sacrifice comfort for its eco-friendly features. It balances all the benefits of a hybrid vehicle with the same level of comfort and interior space in comparable gas models. The standard LE trim and the upgraded XLE can seat up to eight people with bench seating in the second and third rows. If you decide to opt for a higher trim, like the Limited or Platinum, you can enjoy a seven-seat arrangement with captain's chairs in the second row. On top of all that room, Toyota has added a stylish new Bronze Edition to spice up its 2022 Hybrid line. The Bronze Edition is available in FWD and AWD and it comes with a multitude of stylish bronze accents on both the interior and exterior. These include cloth and leather seats with bronze stitching, illuminated bronze door sill protectors, and 18-inch bronze wheels.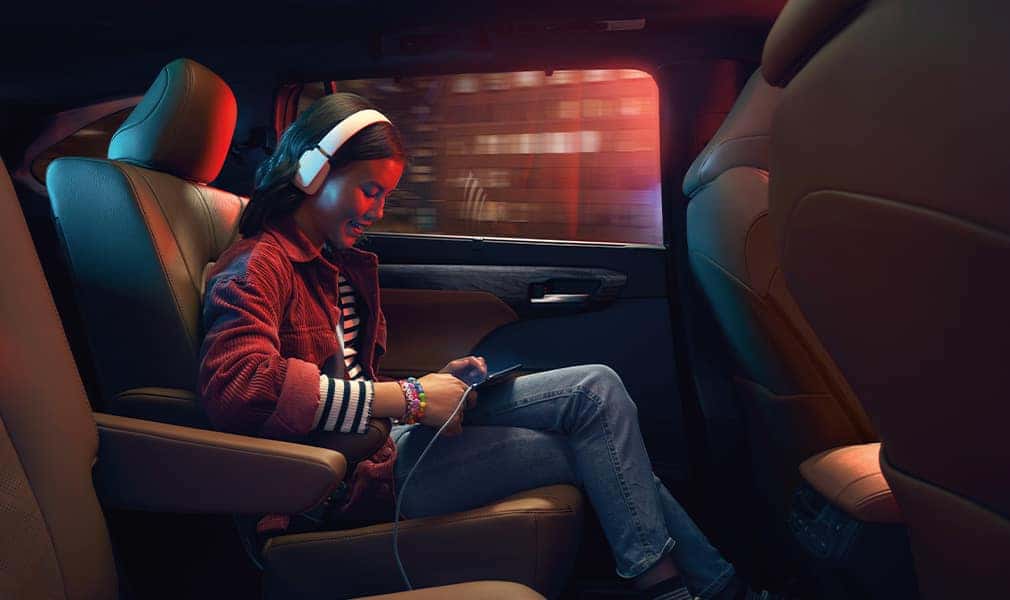 2022 Highlander Hybrid: Bronze Edition
---
Interior
---
8 SofTex Leather Seats with 2nd Row Bench Seating
10-Way Power Driver Seat
6 Speaker Audio System
7" In-Dash Colour Info Display
8" Touch Screen Display
In Dash Ambient Lighting
1500W Power Outlet
Digital Display Rearview Mirror
Exterior
---
Kick-Sensing Power Backdoor
18" Satin Bronze Alloy Wheels
Bronze Door Sills
Power Sunroof
Silver Roof Rail
Available Colors: Cement & Wind Chill Pearl
Safety
---
Safety Connect
Remote Connect
Service Connect
Risk Avoidance
Blind Spot Monitoring
Rear Cross-Traffic Alert
Anti-Theft Alarm System
---
Whether you spring for the Bronze Edition or settle for a less flashy trim, you will not be disappointed with the comfort and space provided by the 2022 Highlander Hybrid.
Performance & Efficiency
Just like the 2022 Highlander gas model, the Hybrid offers both front and all-wheel drive options. With its 2.5-liter four-cylinder engine and two electric motors, the Highlander Hybrid achieves a 243 horsepower rating. Unlike the eight-speed automatic transmission of the gas model, the Hybrid employs a continuously variable automatic transmission (CVT). Because of this, the Hybrid falls a little short in the horsepower and acceleration department. However, there was only a 1 second difference when testing the 0-60mph acceleration of both models which, in hindsight, makes very little difference on the road. We believe that you will be quite satisfied at what you gain by sacrificing that little extra boost when the light turns green. With multiple selectable driving modes available in the Highlander Hybrid, you can control and maximize your vehicle's performance in any situation. This midsize Hybrid SUV also dominates in the fuel economy department. The 2022 Highlander Hybrid (FWD model) boasts a 35/36 MPG city/highway, compared to the gas model with a 21/29 MPG city/highway average rating. With the unpredictability of gas prices these days, fuel efficiency is a must, and the Hybrid delivers big time.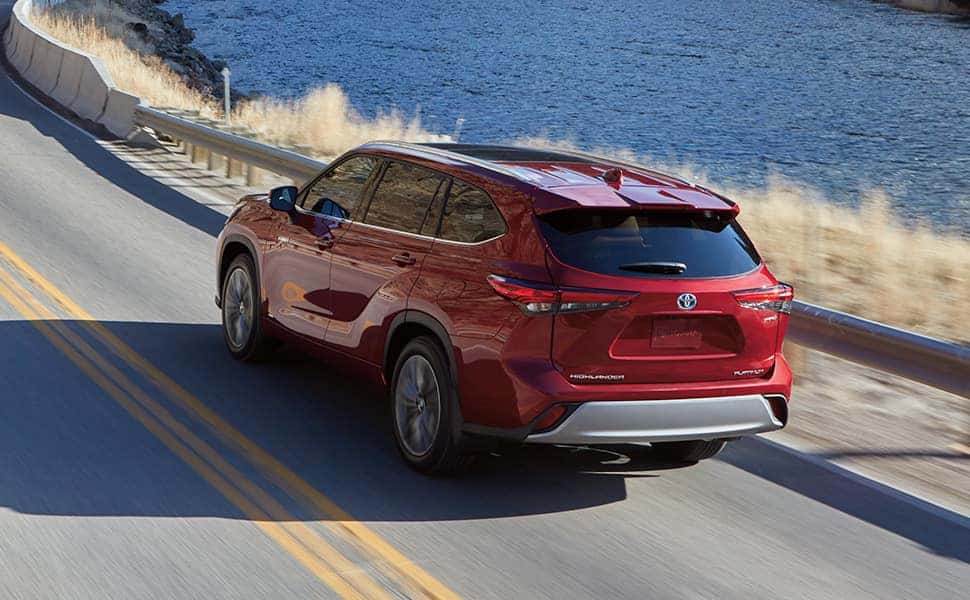 Special Features
If you are looking to purchase a family vehicle, safety is a must. The Highlander Hybrid does an excellent job matching those mama/papa bear level instincts when it comes to keeping your family safe on the road. Each model comes standard with safety features such as adaptive cruise control, lane-keeping assist, automated emergency braking with pedestrian detection, and automatic high-beam headlamps. There are so many ways to get distracted on the road. The safety features in the 2022 Highlander Hybrid give you that extra protection you need when the unexpected happens. So, if that soccer team gets a little too rambunctious or your teenager loses focus behind the wheel, you can have peace of mind knowing your Highlander is watching out for you and your family. In addition to all that protection, the Highlander Hybrid comes equipped with a sizable infotainment system featuring Apple CarPlay, Android Auto, and Amazon Alexa integration for every model. Toyota also provides SiriusXM satellite radio and a 4G LTE Wi-Fi hotspot. With so many ways to keep the family safe and entertained, you just can't go wrong with the new 2022 Highlander Hybrid.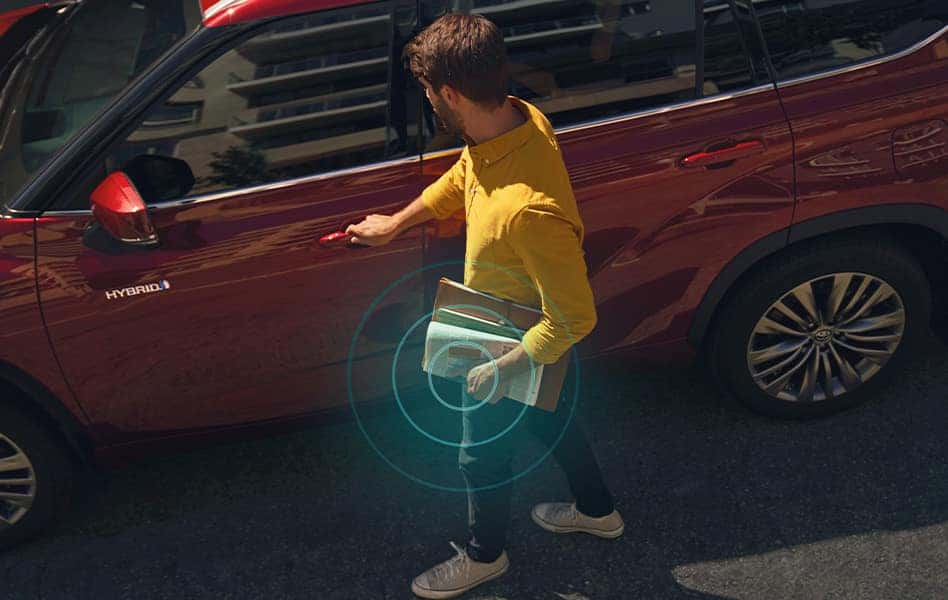 Trim Levels
Toyota knows that every person is unique, and they believe that the vehicle you choose should feel unique as well. With a multitude of trim levels and additional features, you can customize the 2022 Highlander Hybrid to fit your lifestyle perfectly.
2022 Highlander Hybrid: Trim Level Differences
---
LE
---
MSRP
$46,490
---
Seats
8 Seats
Fabric
Bench Seating in 2nd Row
---
Display Features
4.2" In-Dash Info Display
8" Touch Screen Display
---
Audio System
6 Speaker Audio System
---
Safety Features
Safety Connect
---
Exterior Features
18" Silver Alloy Wheels
---
Available Colors
Magnetic Grey, Wind Chill Pearl, Midnight Black
XLE
---
MSRP
$49,390
---
Seats
8 Seats
SofTex Leather
Bench Seating in 2nd Row
---
Display Features
7" In-Dash Colour Info Display
8" Touch Screen Display
---
Audio System
6 Speaker Audio System
---
Safety Features
All LE Features
Risk Avoidance
Blind Spot Monitoring
Rear Cross-Traffic Alert
Remote Connect
Service Connect
Anti-Theft Alarm System
---
Exterior Features
Unique 18" Silver Alloy Wheels
Power Sunroof
Silver Roof Rail
---
Available Colors
Magnetic Grey, Wind Chill Pearl, Midnight Black, Celestial Silver, Blueprint, Ruby Flare
Limited
---
MSRP
$54,950
---
Seats
7 Seats
Leather
Captain Seating in 2nd Row
---
Display Features
7" In-Dash Colour Info Display
8" Touch Screen Display
---
Audio System
11 Speaker JBL Audio System
---
Safety Features
All LE & XLE Features
Rear-Cross Traffic Braking
Embedded Navigation with Traffic & Weathe
Front/Back Parking Clearance Sonar
Destination Assist
---
Exterior Features
20" Silver Alloy Wheels
Panoramic Sunroof
Chrome Roof Rail
Kick-Sensing Power Backdoor
Premium LED Headlights
---
Available Colors
Magnetic Grey, Wind Chill Pearl, Midnight Black, Celestial Silver, Blueprint, Ruby Flare
Platinum
---
MSRP
$57,250
---
Seats
7 Seats
Leather
Heated Captain Seating in 2nd Row
---
Display Features
7" In-Dash Colour Info Display
12.6" Touch Screen Display
---
Audio System
11 Speaker JBL Audio System
---
Safety Features
All LE, XLE & Limited Features
Bird's-Eye-View Camera
---
Exterior Features
Unique 20" Silver Alloy Wheels
Panoramic Sunroof
Chrome Roof Rail
Kick-Sensing Power Backdoor
Premium LED Headlights
Platinum-Colored Front Bumper and Rear Skid Plate
---
Available Colors
Magnetic Grey, Wind Chill Pearl, Midnight Black, Celestial Silver, Blueprint, Ruby Flare, Moon Dust